-- The Patented "shineup" and the Special Four Layers --
What is "shineup"?
"shineup" is a patented
thread
.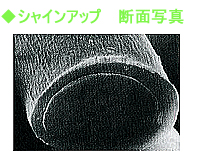 Unpleasant odors are decomposed / deodorized when exposed to fluorescent light and sunlight due to the special photo-deodorant constituents that have been woven in.
Even in the middle of the night when there is no sunlight or fluorescent light, unpleasant odors that have been adsorbed are decomposed / deodorized without being emitted, while waiting for light.
A cross-industrial material developed by KURARAY CO., LTD. and Takeda Chemical Industries, Ltd. that is a patented multilayered textile fabric with absorbing and quick-drying features.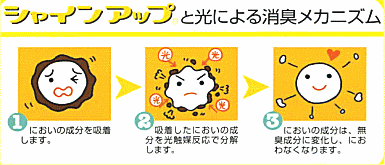 Examples of Unpleasant Odors that "shineup" Eliminates:
- sweat
- cigarettes
- nonenal odors
- car odors
- urine
- pets etc...
Effective on a variety of unpleasant everyday odors.
Odors are actually eliminated, as opposed to just being covered up by fragrances.
The Six Characteristics of "shineup":
Photo-Deodorant

The photo-deodorant, "shineup" (patented) jointly developed by KURARAY CO., LTD. and Takeda Chemical Industries, Ltd. decomposes / deodorizes waste and body odors. The effects still last even after repeated washing.

"shineup" has qualities that control the multiplying of bacteria.Pets can roll around on it at ease!

As the material is of a four-layered structure (patented), moisture such as urine is quickly absorbed and diffused in moments, leaving the surface comfortably dry.

Quick-Drying

According to our studies, it dries three times faster than cotton.Its light weight also makes it easy to hang dry.

The heat-resistant waterproof film on the reverse side keeps absorbed moisture from leaking.
Moisture does not seep out and stain surrounding areas. (Please use on flat surfaces.)

Washing with washing machines is OK! It is economical as it is not disposable and can be washed over and over again.
It dries right away when hung outside and also fits right into drying machines. The suggested time for replacement is after 70 to 80 washes.